Leavers Destinations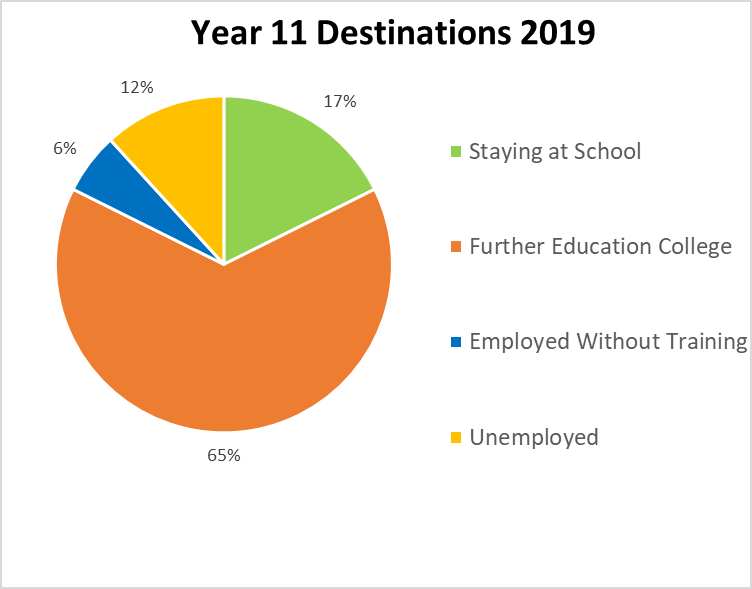 We are proud that the vast majority of our Year 11 and Post16 leavers have successfully transitioned into further education or employment. Our broad curriculum is personalised to support the holistic development of all our young people and prepare them for adulthood.
Our curriculum offer includes sessions on developing life and living skills; we also offer vocational and work related learning opportunities. Through our therapeutic offer (SALT, Thrive, Counselling and EH4MH) we support our young people to develop skills and strategies in communication amd social interaction and also to be aware of, and manage, their anxieties and emotions.
We strive to support all our young people to achieve to the best of their ability so that they are well prepared for their next step, whether that be further education, training, employment or being supported to live as independently as possible.
Our pupils voice is most important in planning their next step. All pupils meet with a careers advisor from Careers South West (CSW) to help them make informed decisions. We also work closely with families and other professionals through a series of leavers reviews; this is especially important in supporting our most complex and vulnerable young people. In addition we support pupils with college and placement visits, application/CV writing and interview practice. Our staff work tirelessly to ensure that our young people get the support they will need to be successful in their next setting.
We are committed to the further development of our therapeutic, life and living skills, academic, vocational and work related learning provision to further enhance how we prepare our young people for adulthood.