Our Houses
We know that moving to somewhere new can be a little daunting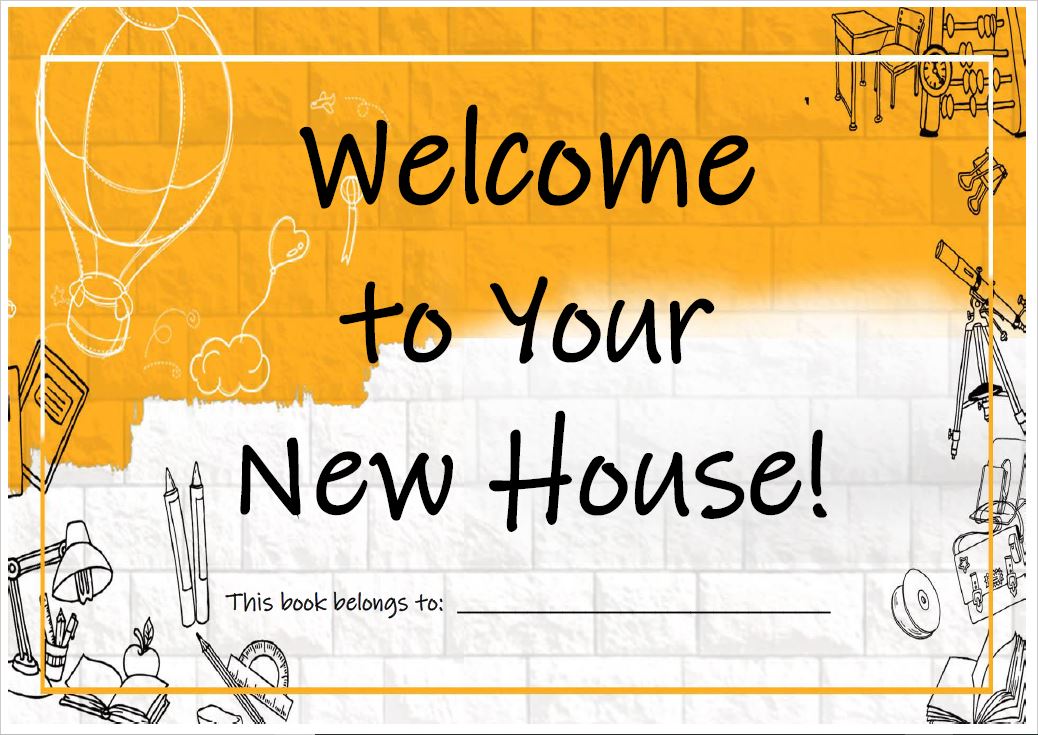 for any of us, old or young, so we have put together a little booklet for our new guests called "Welcome to your New House!
It has lots of useful information in it, from the House Rules to what to do if you just need to have a chat to someone. There is also room for a favourite photo and space to write your favourite things. Why don't you have a look by clicking on the cover?
Gala House
Gala House has space to accommodate up to seven boys residentially. There is a playroom with a desk for arts and crafts and an electric organ. At the front of Gala is a big lounge where the boys have snack, watch television and DVD's . The dining room is at the rear, where the boys have their meals cooked by the residential staff and very often helped by the boys themselves. All the boys in Gala have an opportunity to participate in the full range of after school activities that are offered.
Jubilee House
Jubilee House is a purpose built residence which accommodates up to six young people term time only. The spacious and beautifully decorated accommodation comprises a lounge, dining room, sensory room, playroom, music room, laundry, kitchen and office. On the first floor are six large bedrooms with built-in furniture, staff sleeping-in room, shower room and bathroom.
This residence was opened in April 2011 and is fully equipped for disabled young people. There is a team leader, as well as a team of experienced residential child care officers, who work a shift rota to cover a 24-hour period, including waking night cover. Staffing ratio is calculated through the admissions process.
We are self-sufficient in our catering needs and therefore have to plan meals and take trips to the supermarket. We encourage our young people to make healthy dietary choices, source products and then take part in the preparation. Some relish these choices more than others… but, have come to realise that action provides sustenance whatever its culinary artistic presentation!
Spartan House
Spartan House accommodates some of our boys pupils with up to nine residential places as well as places for day pupils who stay until 6.00 pm.
Spartan has recently undergone a complete redevelopment resulting in extremely high standards of accommodation with all facilities being brand new and up to date. Spartan has three separate games rooms which have a variety of activities and games including Playstations, XBoxes, SingStar, Lego, Scalextric sets and a number of board games and other toys, which are age appropriate and appeal to the youngest and oldest boys. We also have a quiet/chill out area and a place where the boys can make arts and crafts.
Spartan has a large lounge/living area where the boys watch television and DVD's whilst the dining room is where the boys have their breakfast and tea. All the boys in Spartan have the opportunity to participate in the full range of after school activities that are offered.
Gladstone House
Gladstone House is a weekly boarding house and currently has the younger group of residents. Our home is a detached bungalow with plenty of outside play areas including, and adventure play area, the trampoline and a basket swing.
We enjoy plenty of activities on site such as arts and crafts, swimming, relaxing indoors or playing outside in our garden. We also have a large indoor playroom with computers and computer games and a Nintendo Wii. We love going out into the community too and we often go for a meal out, shopping, bowling, visit play parks, go on local walks and visit places of interest, including the zoo, Living Coasts, Clip and Climb. We also have a trip to the pantomime at Christmas.