Our Grand Christmas Cracker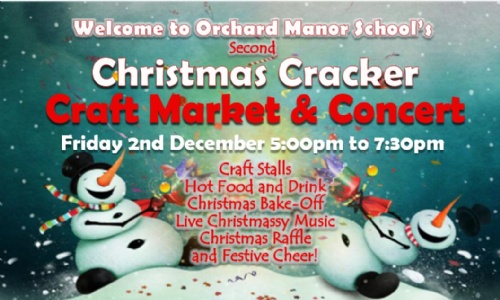 On behalf of the PSFA, I would like to say a HUGE thank you to everyone who was involved in this year's Christmas Cracker fundraiser. Thank you to those of you who helped to set up on the evening, to people helping out on stalls, to the kitchen team who provided the tastiest turkey baps and the most delicious alcohol free mulled wine! Thank you to Chris Ostler who welcomed everyone in with his toe tapping Christmas tunes and the Exeter Railway Band who gave us a traditional Brass Band concert with a chance to sing well known carols at the end. It was beautiful. So many smiley faces around.
Finally, a heartfelt thank you to every single one of our parents and carers, friends and neighbours who supported us, bought a raffle ticket, ate a bap, tried a cake, spent money at the stalls and just came along to see us... We couldn't have done it without you!
We are delighted to announce that we raised just over £1,000 which will go to the PSFA and will directly benefit our students at OMS!
Although the event is organised to ultimately raise funds for our pupils, it is a really lovely way for our pupils and families to spend an evening together in a comfortable environment. The atmosphere was full of joy and it was so nice to see some familiar faces of previous staff who also came to support the event.
Thank you again to everyone. You are amazing!
The OMS PSFA