Fabulous Donation from Teignmouth Tangent at our Christmas Cracker Event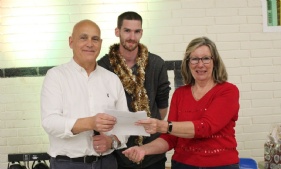 We would like to say a huge thank you to the Teignmouth Tangent Club for the wonderful donation to our PFSA - our Parents Friends and Staff Association.
We were thrilled to be presented with a very generous cheque for £200 by Anne Taylor, Chair of Teignmouth Tangent at our Christmas Cracker event on Friday 3rd of December.
We had a super evening with 17 stallholders, of which Teignmouth Tangent was one, traditional carol music from SWWComms Brass Band and Christmassy songs from Terrie-May McNulty which added to the festive spirit.
The Christmas Bake-Off was a great success too and slices of all the entries were sold on the night in the dining hall, where our lovely Kitchen team put on a fabulous spread of turkey baps with cranberry sauce and stuffing. Delicious!
All in all we raised a massive £1730 which we will put towards providing additional life enhancing experiences and equipment for the children of Orchard Manor School.
Thank you so much to everyone who came and all the donations of raffle prizes and funds. See you next year?