4th in The World Masters Cyclocross Championships 2021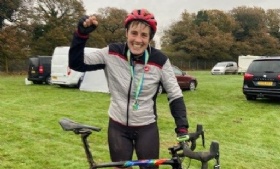 You know we have some amazing staff here at Orchard Manor... Let me tell you about few .... Starting with Catherine "Killer" Kilburn, our much loved PE teacher, fitness fanatic, PE Enthusiast and a great all round team player.
Well, she has a love of cycling, not just the normal cycling, but Cyclocross. You may have not much idea what cyclocross is either, but if you do want to know, have a look at this: https://www.youtube.com/watch?v=iNzPsAo1QCg
Catherine says "I love cyclocross because it is 40-60 mins of torture. The bikes look like a road bike, but are actually a bit different. The course is off-road but never too extreme downhill, although the best courses have different terrains in them, and you often have to get off your bike and run with it over barriers and up steps. The muddier it is, the more I like it because I stand a better chance against stronger riders! You race in your age group which is another reason why I love it. I may think I'm 21 but wouldn't stand a chance against a top 21-year-old so I can race people nearer my own age and have a chance.
The World Masters Cyclocross Championships is a big step up for me. I am up against ex Olympic cyclists and ex World Champions, but I have made the cut and will give it a go. Covid has stopped some people coming and some of the best riders are from USA and Belgium, but the British women are also very strong. Dan and I have been telling the children all year that we want them to be "the best they can be" and that is what I will try and do!"
Last week our very own Catherine took part in The World Masters Cyclocross Championships, and came 4th!!! Totally amazing! Well done Catherine!