80 Trees for 80 Years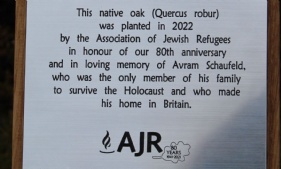 International Holocaust Day, 27 January 2022 we were extremely proud to have been chosen to plant a very special tree in honour of holocaust survivor Avram Schaufeld.
Alex Caven, our PHSE lead suggested that Orchard Manor would be a perfect place to plant the oak tree as Dawlish welcomed Jewish refugee children during the war. The tree is sponsored by Vera Schaufeld, Avram's wife and will be planted by Rachel, his daughter and Jackie, his granddaughter. AJR - The Association of Jewish Refugees is celebrating its 80th anniversary and this was part of its nationwide campaign to plant 80 trees for 80 years.
It was a lovely morning, and we are so proud to have been chosen as a site for the tree.
Here is a video of the day....